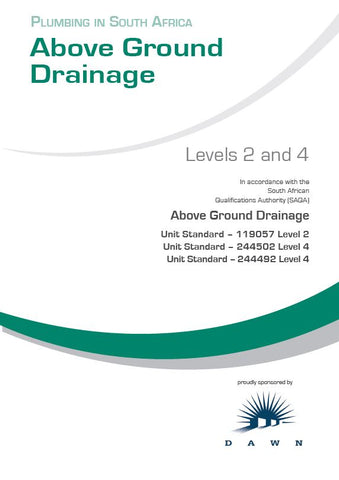 Above Ground Drainage - EBook
Welcome to Above Ground Drainage
This book has been designed to provide you with all the theory that you will need, which in conjunction with your practical training will qualify you to install above ground drainage systems. It is crucial that the drainage systems in South Africa be installed correctly to ensure the integrity of our water and sanitary systems.
To help you in your studies, you'll find summaries of each chapter, at the back of the relevant section. A note column has also been
provided to enable you to jot down important information, as you read through the text. At the back of the book, you will find a glossary, explaining the various terms used throughout the book. The textbook has also been comprehensively illustrated, which will aid you in
understanding many of the concepts discussed.
Additional information relating to, amongst other things, SAQA; Unit Standards; Critical Cross-field; Outcomes (CCFO) and Assessments -
required by apprentices and learners - should have been supplied in a separate learner information pack by your learning institution.
We wish you every success in your endeavour to obtain this SAQA qualification.