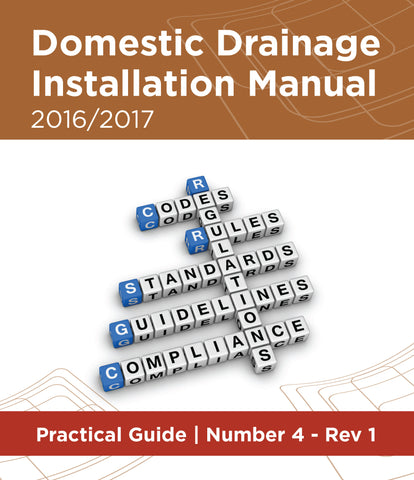 Copy of Practical guide to Installation Standards for Drainage in South Africa - PRINT COPY
This manual describes how drainage systems must be installed and maintained so that it complies with the relevant national standard SANS 10252-2. Soil water is a recognised potential safety hazard and therefore it is a legal requirement in South Africa that all drainage installations must comply with this standard.
This manual focus on the requirements that are applicable to drainage installations for typical domestic household. Some of the requirements of SANS 10252-2 relates to multi story buildings, office blocks, blocks of flats etc. Where these requirements could be applicable to a 2 or 3 story residence this was addressed in the manual. This manual did not attempt to cover all private residences, and some larger residences might fall outside of the scope of what is discussed in this manual. If there are any doubt, then the designer or plumber must consult the national standard SANS10252-2 to ensure full compliance.
The manual also focus on typical building materials used today. For instance, galvanised pipes is considered not to be commonly used for drainage system in residential installations. Some of the detailed requirements that are applicable only to galvanised pipes have therefore be omitted from this manual to prevent unnecessary clutter. It is therefore important to note that if this manual does not address any specific material of type of installation it does not imply that there are no requirements. In such cases the national standard SANS 10252-2 must be consulted as the ultimate reference.
---
We Also Recommend